About the coach
Our new (2013 registered) coach has a Volvo B11 chassis which incorporates all the latest fuel saving and safety technology making it one of the safest and most fuel efficient large coaches on the road. The body is a Sunsundequi SC7 with 4 wide front steps, with additional grab handles, to make it easy for passengers to enter the vehicle. In addition a passenger lift is incorporated over the rear wheel arch to provide ease of access for physically impaired passengers. The coach has the benefit of a hearing loop for the hard of hearing and a saloon mounted toilet which is convenient for most users.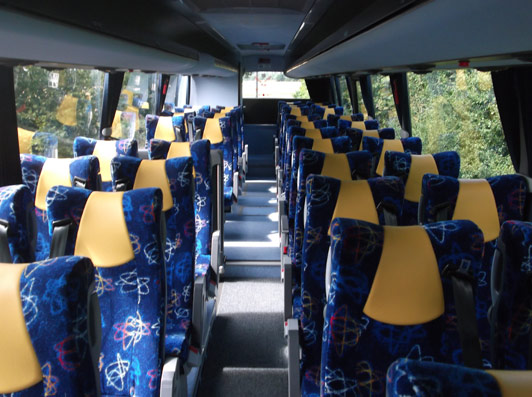 The seats have been specified for additional lumber support to ensure comfort and are generously spaced to maximise legroom and provide ease of access. The coach can accommodate up to 3 fixed wheelchairs but this will reduce the number of seats available. The normal seating capacity is 46 plus one fixed wheelchair with the lift in use but this can be increased to 48 if lift is not required.
For the benefit of passengers who may have minor mobility issues a number of wheelchairs are normally carried which are available on the day. Other facilities include a servery for hot and cold drinks, saloon mounted toilet, air conditioning and central heating.
The coach is maintained to the highest standard by our maintenance contractor.